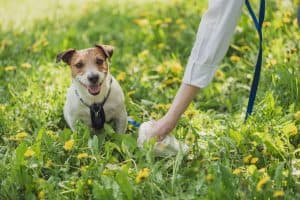 Adventure Dogs: A Pet Parent's "Doody" To the Great Outdoors
This weekend I went on a volunteer poop cleanup at a nearby multi-use trail here in Colorado, home of the KONG Company World Headquarters. At KONG, we know that Dogs Need To Play, and a lot of times in Colorado this means playing in the great outdoors! Since our company's home base is among some of the most beautiful scenery in the U.S., we are no strangers to taking our dogs on big outdoor adventures: hiking, biking, camping, skiing, stand-up paddleboarding, and sometimes even river rafting! Even so, it was a shock to see just how much poop in total was littering the sides of this much-loved, local trail.
During the two hours our volunteer group scoured the trail for fecal landmines, we cleaned up an estimated 100 lbs. of dog poop from this popular trail. I admit, I've had this idea in my mind that because we Coloradoans are outdoorsy and love our dogs, we are also environmentally conscious, and we all naturally want to pick up our dog's poop. Then I had a thought… I bet folks think the same thing I once thought about dog poop: it's natural so it must decompose quickly, plus, my dog eats fancy food so it must be okay to leave it!
As it turns out, dog poop (even the fancy food kind) is pretty harmful to our ecosystem, not to mention that it can carry  different types of worms, salmonella and giardia, which are all transmittable to other pets and humans. I want to share what I've learned from my volunteer poop patrol and from the Leave No Trace website, where you can also find the overarching "7 Principles" of Leave No Trace or as it is often referred to, LNT.
Dog food is nutrient-dense, but it's not local. 
The food you feed your dog–even if it is organic, raw, dehydrated, canned, or kibble–is full of plants, animal proteins, and added vitamins & minerals that are not native to your surrounding environment.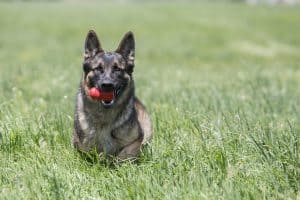 Coyotes, wolves, bears, mountain lions, and other animal scat come from resources in the local ecosystem, creating a closed-loop cycle with no net gain or loss in nutrients or resources. A recent study done in Rocky Mountain National Park examined samples of bear scat mixed with soil, planted in the Park's greenhouse, yielded more than 1,200 Oregon-grape and Chokecherry seedlings. These results showed evidence for the interdependence of species & the environment in Rocky Mountain National Park. Further, the research showed that seedlings are more likely to germinate after passing through a bear's GI tract due to their internal system's ability to break down the thick, durable seed coat in order for it to germinate, in comparison to the seeds simply dropping off of the plant.
Phosphorus, nitrogen & algae blooms, oh my! 
When a dog poops out their nutritious, foreign food, they are introducing nutrients like phosphorus and nitrogen into the ecosystem, which overpopulate the closed loop, throwing the ecosystem off balance. This creates unstable conditions, and as the poop breaks down and penetrates the land, these nutrients flow into water sources. This allows for algae blooms in lakes, rivers & streams, as well as creating a welcoming habitat for invasive weeds.
Poop pick-up hacks. 
There are different ways you can pick up poop, so you don't have to hold a poop bag for the entirety of your wilderness experience, a day at the dog park, or let it pile in your backyard – backyard waste leaches into water supplies, too.
#1 Hide poop bags in every pocket, vehicle console, backpack, and bike bag you own.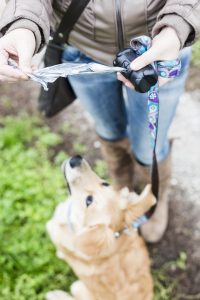 Assume that no place you are going with your dog has a poop bag station. Having any form of poop bag is better than none. Taking it one step further, there are now dozens of biodegradable poop bags on the market to choose from. Make sure to read the label before you toss the used bags into your trash, as many of these bags require a composting bin or other type of disposal. The Green Guide provides information to determine if the biodegradable poop bag brand you are using follows the FTC's fair environmental marketing claim guidelines.
#2 Time for a new water bottle, but don't want to part ways with the sticker collection on your old one?
Pack out your poop in an old (or new) wide-mouth water bottle with a screw-on lid. This seals the smell and, unless you're traveling with a Great Dane, should hold a couple days' worth of poop bags for multiple-day adventures, and even daily hikes, bikes, paddles & runs. Make sure to eliminate air from the bag before you tie the knot to save space. A friend in a women's outdoors group I am in shared this idea in a comment on a Leave No Trace essay the group leader wrote, so I owe this one to her!
#3 If at home, flush it down.
Depending on your municipal water sewage regulations (make sure to check your city's rules before you flush), you may be able to flush your dog's waste down the toilet. Make sure to check for sticks and rocks before you flush. You never want to flush your dog's waste into a septic tank.
#4 Choose adventure equipment with poop storage.
Dog gear has come a long way in the past 10 years with poop carriers and pockets now adorning several different types of dog accessories– from little hooks on your poop bag holder, and mesh pockets on your backpack, to harnesses & leashes complete with poop bag clasps, it's easier now than ever to go on longer trips without having to carry your dog's poop bag in-hand.
#5 (And the last resort) Backcountry Burial.
Our friends at Leave No Trace say that if you are in the backcountry and have no other choice, you can bury your dog's poop in a 6-8" cathole, at least 200 feet away from water sources – that's 70 big steps if you didn't pack your measuring tape. If your dog poops closer to the water than that, use your poop shovel to pick it up and carry it to a cathole 200 feet away.
Let's all do our part.   
This problem isn't just in Colorado, it runs across the United States, where 83 million domestic dogs produce 10.6 million tons of poop each year: That's over 255 lbs. of poop, per dog, per year. USA Today has reported that 40% of dog owners do not pick up after their dogs at all. Let's change that together! Whether our adventures start in our backyards or on a recreational trail, we can each pledge to take steps towards a better environment, one poop pile at a time.