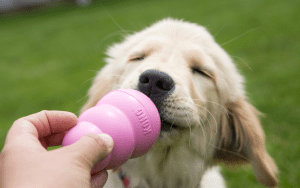 Start Smart: How to Introduce Your Dog to KONG
Your dog will thank you later!
While people may know that a KONG can be key to hours of enriching, mentally stimulating fun that satisfies dogs' instinctual needs, a dog who has never played with a KONG might not know exactly what to do. Don't worry, it's easy to get them on the right chewing track. Follow these steps to "explain" KONG to your dog in a way that helps maximize fun and safety:
1. Stuff loosely
Fill KONG with treats you know your dog adores.
You can stuff a KONG with anything that is safe for your dog to eat. For dogs who have not previously played with food puzzles, it's best to use small pieces of dry food, like kibble, to loosely stuff the KONG. That way, it's easy for the dog to extract the treats and learn how it works. Giving a KONG rookie a toy stuffed tightly with food that's difficult to get out may create frustration, and that's no fun.
2. Seal to secure treats and entice interest
After you've stuffed the KONG, seal the openings at the top and bottoms with a squirt of KONG Easy Treat or KONG Stuff'N Peanut Butter — whichever your dog loves most. Not only does this keep the stuffing from falling out too easily, the irresistible flavor and aroma spark your dog's interest in their new toy.
3. Introduce with excitement
When you first show your pup their KONG, make sure you do it enthusiastically. Excitement is contagious. Your positive energy lets your dog know that this is, for sure, a wag-worthy event. Use an animated voice to talk about the toy they're about to get. Think of yourself as the warm-up band for the main KONG act. Try saying things like "Wait until you see this most amazing toy! It's chewy and bouncy and stuffed with your most favorite nibbles! You are absolutely going to love this yummy, tasty KONG!"
4. Play a bit of hard-to-get
Before handing the KONG over to the dog, it helps to play a bit of hard-to-get to crank up the excitement level and pique your pup's interest even further. Showing the toy to the dog, then hide it behind your back or hold it high up as you talk about it excitedly helps ensure a successful introduction.
5. Point out the openings
Finally, before letting your dog take the KONG and embark on a lifetime of chewing satisfaction, make sure you point out to him or her the deliciously sealed openings. That way they'll realize there are treats inside and this is not merely a bouncy fetch toy.
Follow these steps to "explain" KONG to your furry family member and then learn how you can use it to help solve unwanted behaviors, like chewing, excessive barking and digging.
Once your dog develops their KONG skills, you can increase their enjoyment—and length of play—by making the stuffing level progressively harder. How? By diversifying the type of filling you use and by increasing how much of it you put inside the KONG.
For dogs who have their KONG skills down pat, mix wet and dry food for a stuffing that kicks up the challenge. To increase difficulty level, fill the KONG with more of the mixture than you did when your dog was just learning his or her KONG moves. For dogs who have mastered their food puzzle skills, stuff the KONG tightly with a mixture of wet and dry food. For KONG pros, freeze the stuffed KONG for a few hours for an expert challenge.
For a dynamic visual that illustrates the progressive stuffing levels, check out How to Stuff a KONG. And for a ton of fun stuffing recipe ideas to keep things interesting (and delicious!) for your KONG lover, click here.