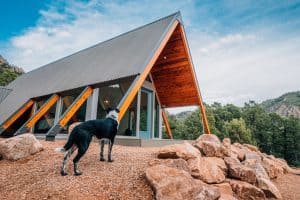 Living With Pets in Small Spaces
Navigating daily life in tiny living using KONG tools
We recently downsized from a 1200-square-foot apartment to live in a tiny house of about 250 square feet. It was a big change for our family of two humans, two dogs, and a cat. Living small, we found that we have to stay organized and active in order to keep a balanced home, and that means we utilize several tools from our KONG tool belt in order to keep our dogs and cat healthy, happy, and at ease. While these tips come from our family's tiny living experience, they can apply to any size of home!
The following is a "day-in-the-life" snapshot of our routine. When you are changing your routine, it's good to live in your space for a while to see what areas of the home are best for each activity, as well as taking into account your work schedule and free time. Our routine may inspire your own, and you might want to try one or two things in your tiny space to see what works for you!
Morning
Getting ready for the day. Using KONG's Key is Three method, I wash dirty, empty KONGs from the day before while our dogs are eating their breakfast. If the KONGs are extra dirty, soaking them overnight and then refilling them in the morning is best for us so they don't get in the way of doing dishes during the day. Living tiny often means you don't have extra room in the kitchen for multiple projects. Because we have two dogs, we tend to keep 4-6 KONGs in rotation so there are always frozen KONGs in the back of our freezer, ready to grab at a moment's notice. The KONGs we use during the day get thrown into a food storage container next to the sink until it's time to clean them.
Next, I refill the KONGs with one of my favorite recipes below. KONG has so many more creative recipes to explore in the Cuisine tab of the website, you're sure to find inspiration and something your dogs will love.
Here's our go-to recipe, which makes extra for ice cubes.
You will need a small spatula, a mixing bowl, 1-3 ice cube trays, and your clean KONGs.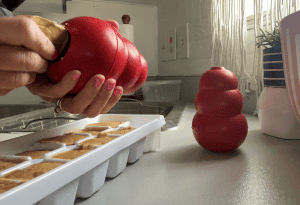 1 can organic pureed pumpkin (plain, no sweetener)
1/4 cup liquid goat milk or dehydrated goat milk, or  1/2 cup unsweetened plain goat yogurt
1/4 cup organic rolled oats
1/4 cup organic apple sauce
1 tsp ground cinnamon
1/2 cup roughly chopped KONG Kitchen Hooked on Trout or regular dry kibble
Mix together in a large mixing bowl
Spoon into ice cube trays- freeze
Spoon leftovers into empty KONGs, freeze
Use the pre-mixed frozen cubes to replenish KONGs quickly during the day and for smaller portions
Morning Exercise. I work from home, so I need quiet time for several hours in a block of time. I can only get that if our dogs get their exercise first. Spending their energy and providing mental enrichment is crucial to living in small spaces with pets.
We go for a long morning walk most days to spend our largest dog's physical energy and to get both dogs some much-needed sniffing time. I once read in a dog training book that for dogs, sniffing is like an 'information superhighway'. Research shows that they burn mental energy and gain enrichment by gathering information from the scent of other animals' fur, glands, and bodily functions by sniffing grass, bushes, twigs, fire hydrants, etc. Both of our dogs really enjoy this activity, and I have noticed a marked difference in the results our walks from not pulling them away from sniffing and letting them take as long as they need. It really helps them use their other senses and wears them out a little more. If we are in a time crunch, they still get to sniff, we just don't go as far on our walk. Try this with your dog(s) for a week and see if you notice a difference, too!
Our large dog, Indiana, really loves to run and fetch as her main form of physical exercise, so we use the KONG Signature Throw to launch a KONG long-distance. It's super easy to use and has saved my arm from burnout. Because it throws a KONG Classic instead of a tennis ball, she can't anticipate the exact place the KONG will land, as it has an erratic bounce due to its snowman-style shape. We also keep a few KONG Ultra Squeakair tennis balls for those times when we don't use the Signature Throw. These are more durable than your average tennis ball because of the dual texture materials, and the felt is non-abrasive, compared to classic tennis balls.
In case you are wondering, Koi is not a fetch & retrieve kind of gal, she is enjoying her senior retirement years and often spends her time sniffing, trotting, parkouring off rocks, and staring at us with her big, loving, doe eyes.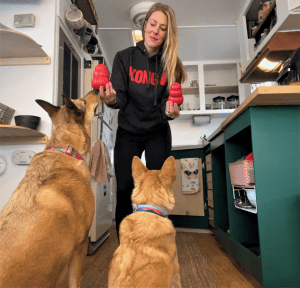 Morning frozen KONG. Once we get back and the girls have had some water and a chance to catch their breath, I get my office space ready, then give them a frozen KONG. Sometimes these are fully stuffed, and sometimes they are KONGs with 1-3 ice cubes, which is a smaller portion of food. What I give them depends on the amount of exercise they've had that day or the day before. Sometimes I cut back on their regular food a little to account for the calories they get from their KONGs. Giving them their morning KONGs after their exercise gives me a few hours block of time to get some work done since they typically fall asleep for a while after they finish. I make sure to keep my eye on them and pick up their KONGs as soon as they've cleaned them out.
Mid-Day
Our daily routine calls for a break around 1 pm. They get a short outdoor break to potty and sniff around the yard.
Chew toys are great for our early afternoons. One of our favorites is the Bamboo Rockerz Ring. They are both average chewers, so they both get a red KONG Classic and any of the KONG Bamboo or Chewstix toys — there are several to choose from!
During cold or rainy seasons, or extreme heat, we do indoor activities to keep our dogs mentally stimulated and moving around, safely. If you need ideas for playing in small indoor spaces, watch this video. It's got several great ideas from trainer Katherine Kekel for days where being outdoors for long just isn't an option.
It's good to keep an extra frozen KONG on hand for rewards during afternoon games, for times when I have a longer work day, or if we have visitors come by.
Evening
If Indiana needs to burn a lot of steam and has been holding 'discussions' with me, then I know she needs stimulation, and it pays to get ahead of the game before her discussions turn into bossing. We like to take hikes and practice recall, so carrying small treats like KONG Bites Minis is really rewarding, easy to carry, and doesn't add a ton of calories to her daily intake. Koi gets a few, too, just for being a good old girl.
On days when we haven't had as much time for activities, the dogs get their dinner in a KONG Wobbler. You can feed any meal with this tool – it's great for mental stimulation, fast eaters, and for dogs who have a few extra pounds to lose.  The Wobbler is shaped like a giant KONG, with a weighted base, causing it to wobble around and dispense loose kibble from a small hole when the dog nudges it with their nose or paw. It makes mealtime a little more challenging and a great alternative to a dog bowl.
Cats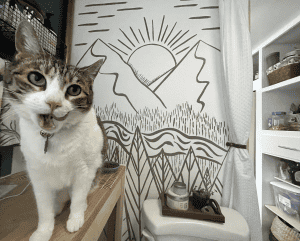 We can't forget to talk about enrichment for cats, as it often gets overlooked. Because we live in a smaller space, we make sure to keep DJ Party Paws' food and water fountain up high away from the dogs. We had to create higher spaces for her to feel comfortable, and for her to get a good vantage point of the dogs. It also clears up space for us to move more freely through our home. She has a corner that perfectly fits a KONG Naturals Scratcher Incline which is infused with catnip, and a space to sit and watch the birds in a nearby tree.
One thing we've added to her routine is kitty playtime. When the dogs are tired and resting, I block off the bedroom with a portable gate and get out our KONG Teaser Feather, and we spend about 15-20 minutes playing. When she sits for brushing, which we have to do often with all our pets in such a small space, she is rewarded with KONG Nibbies. She loves these treats.
From what we have learned about living with pets in tiny spaces, it's important that we make time for our animals to play, be curious, have a routine, and to use a reliable set of tools that enable us to reward and engage our pets. We would love to see how you live tiny with your pets! Tag @KONGCompany on Instagram and use the hashtags #KONGdog and #KONGcat. Happy Tiny Living!