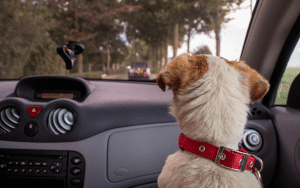 7 Tips for Road Trips with Rover
Car rides can be tough on dogs, but these tips will change that!
Hitting the road with your best friend? Follow these suggestions to make your journey safe and comfortable for your 4-legged copilot! Here are a few tips on how to let the adventures begin. Keep a dog kit in your car.
1. Keep a dog kit in your car.
Store a box or bag of dog supplies in your car, that way you don't need to remember to bring the basics every time you head out.
Some ideas of what to pack up include:
Water bowl
Treats (in dog-proof container)
Extra leash
Waste bags
Canine first aid kit
Towels for muddy paws or car sickness
Water in bottle with squeeze top (Can help rinse muddy paws and upholstery.)
Toys
2. It goes without saying BUT we need to say it…Never leave your dog in your car on hot days.
Not even for "a few minutes." Remember, car temperatures can spike quickly. The temp inside a vehicle can rocket from 70 to 89 in just ten minutes on a 70-degree day. It reaches 99-degrees after 20 minutes. For some dogs, based on breed, weight and physical condition, even 60 degrees can be too hot.
3. The back seat is the safest seat for your dog.
The safest spot for your dog is in the back seat, secured with a harness and a line to the seatbelt. Sure, we know it's wonderful to have your dog as a copilot right next to you in front, but the back seat is the safest spot.
4. Romp before road trips.
A round of active play with your pup can help burn extra energy and anxiety and help dogs settle down quickly in the car. Try a game of fetch with KONG Classic, the toy's bouncy natural rubber and erratic shape make every game different, keeping things fun for fetchers.
5. Strategic snacking: Hide yours. Pack theirs.
Make sure your driving snacks, like gum (Xylitol is toxic to dogs) and chocolate (also toxic), are stored safely away from your dog passengers.
Keep your dog happy and mentally occupied on the road by stuffing a KONG Classic toy with your dog's favorite treats as a way to keep them happily entertained on the road. Freezing a KONG stuffed with yummy treats extends the fun.
6. Pack your license—and your dog's.
You don't drive off without your driver's license. Be sure your dog's identification tags are secure and legible, too.
7. Make entry/exit easy.
For older dogs, smaller dogs and longer dogs with sensitive backs, ramps make getting in and out of the car much easier and safer. There are lots available on the market that fold up for convenience.