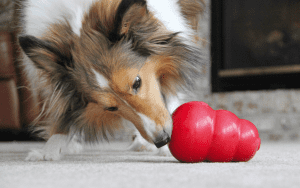 How to Stuff a KONG
Your how-to guide on stuffing a KONG.
While bouncy, durable KONGs are irresistibly chewy on their own, stuffing them with your dog's favorite treats kicks up the fun.
Natural rubber KONG toys satisfy dogs' chewing instincts. Stuffing them with tasty treats sparks dogs' foraging instincts as well—all while providing healthy mental and physical stimulation that keeps your dog happy and healthy.
What to stuff a KONG with
You can stuff a KONG with anything that is safe for your dog to eat. Peanut butter, yogurt, canned pumpkin and fruit are a few favorites. Using a variety of different foods keeps the challenge interesting.
For easy, fast stuffing use KONG treats. Baked to fit into KONG toys, KONG Snacks Peanut Butter can be stuffed into the toys whole or broken into pieces to add a yummy crunch. Squeeze KONG Stuff'n Peanut butter inside for an easy filling dogs love, or stuff easy-to-digest, teeth-cleaning KONG Ziggies for a quick, one-step option.
How to Fill a KONG – Stuffing Strategy
There's a method for KONG stuffing that helps dogs make the most of their enrichment time. You want to create a KONG that's challenging enough to keep your pup interested, but not so difficult that he or she gives up.
For dogs new to KONG, set them up for an easy win by stuffing the KONG loosely with their favorite treats. Be sure the food is small enough that it will easily fall out as the dog plays. When KONGS are loosely stuffed, dogs can hear the treats inside calling to them as they move it. Seal the KONG's opening with a squirt of KONG Easy Treat. With flavors dogs adore, KONG Easy Treat Bacon & Cheese paste is an irresistible way to seal the KONG's opening so the treats inside don't fall out. The extra-long nozzle is made for mess-free KONG sealing. The yummy paste entices dogs to play, getting them started on multiple layers of tasty fun. Keep a few packs of Easy Treat To Go in your bag or desk for handy KONG sealing away from home. We've also put together some tips and tricks about cleaning and a successful introduction to a stuffed KONG.
Keep KONG challenging
Clever dogs will figure out the best techniques to extract loosely-packed goodies. When your pup starts to make quick work of their KONG, it's time to up your game. Make KONG more challenging—and long-lasting—by stuffing the toy with a mixture of wet and dry foods. The variety of textures keeps things interesting, as each bite is differently delicious. It helps to alternate wet and dry in layers, like making a puppy parfait. View an animated visual illustration showing different levels of stuffing density to challenge dogs with varying skill levels. Don't forget to seal in the snacks with KONG Easy Treat.
For the ultimate challenge, store a stuffed KONG in the freezer for a few hours. Ideal for helping your dog keep cool on hot days, frozen KONGs last longer for tons of yummy, enriching play.
Recipes
Try these KONG stuffing recipes and learn many more that have been tested and approved by the KONG dogs!
Fido's Farmhouse Feast KONG Stuffing
Ingredients:
4-5 whole carrots
1 cup of pumpkin puree
1/2 cup unsweetened dried cranberries
1 cup applesauce
1 cup baby spinach
KONG Easy Treat Peanut Butter
KONG Classic Mix all ingredients together in a bowl. Split mixture between KONGs and freeze.
Oakley's Oatmeal Cookie Dough KONG Stuffing
Ingredients:
KONG Peanut Butter Spread
Rolled Oats
Applesauce
Bananas
Mix all ingredients together and stuff into a KONG. Freeze for a longer lasting challenge.