The KONG Story
Necessity
And Love
Only the Best Since 1976
KONG has been innovating since 1976 to enrich the lives of pets with the highest quality pet toys and treats. The KONG product line provides mental and physical stimulation through encouraging play, appropriate chewing habits, and controlled feeding to help ensure pets are at their happiest and healthiest at every life stage.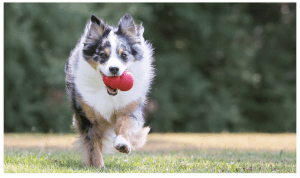 A Relentless Pursuit of Better Dog Toys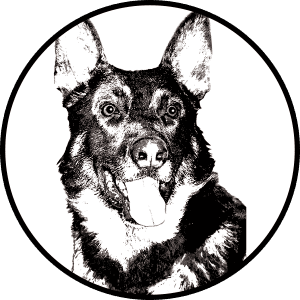 1976
KONG founder, Joe Markham loved his dog Fritz, but wasn't a fan of his destructive chewing habits. Fritz had an affinity for rocks, sticks, and other harmful items.
Joe tried a variety of techniques to solve his problem, but it wasn't until Joe threw out a suspension part from a Volkswagen Bus he was fixing that Fritz found something more appealing than rocks. Whether it was the erratic bounce or the durable rubber, Fritz was fanatical about this snowman shaped rubber and the KONG Classic dog toy was born.
KONG Classic dog toy was created to meet the instinctual needs of dogs to chew and play.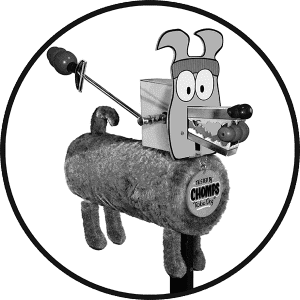 The 1980s
The 1980's were a decade of growth for KONG, in an effort to help show just how durable a KONG is, Chomps the dog with the mechanical jaw was brought to life. With Chomps' ability to showcase how strong the Classic KONG is, people started to better understand the benefits and possibilities a KONG added to their dogs life.
The original KONG Classic Red went from one, singular size to an offering of FOUR sizes. Then a new, even tougher line of rubber for large dogs and aggressive chewers came to be, black KONG Extreme. The KONG Extreme was offered in two sizes. This was the beginning of what we know as rubber selection and sizing today.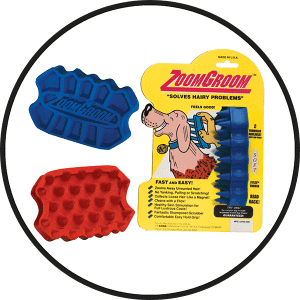 The 1990s
The world's interest and demand for KONG was growing in the '90s, which meant Joe needed to expand his team. Wanting to call Golden, Colorado, USA, the home of KONG, construction began on the first KONG office, affectionately called "World Headquarters" today.
Innovation continued in the '90s. Expanding out from the KONG rubber line, both to dental toys and grooming brushes. KONG ZoomGroom and Dental are still successful products today.
During this time, KONG continued to look at health and caring for needs of dogs. Expanding to dental and grooming supported the goal of helping dogs live a happy and health lifestyle.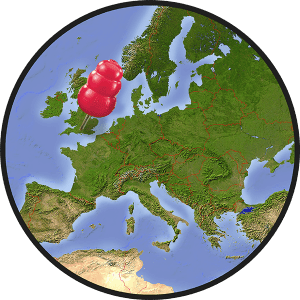 The 2000s
With addition of John Nelson and Kathy Decker Frueh in the early 2000's, the KONG house in Golden, Colorado began expanding. They saw the increased desire for KONG toys around the globe and began the journey of KONG brand expansion. KONG product lines now extended to additional play types and consumables, along with special emphasis on the pet specialty category. It was no longer simply what toys to sell, but which stores to partner with to present the brand.
Read More
As for the KONG Classic, more people were learning the benefits of stuffing a KONG. The word was also getting out that you could STUFF dog food and treats INSIDE of a KONG. This puzzle-offering enlightenment refined the course for KONG. It was more than just a beloved, durable chew toy; it could be an entertaining puzzle that keeps dogs' attention while minimizing negative behavior.
This new concept allowed for more focused emphasis on the Classic shape in two distinct areas. First, to give the beloved Snowman shape more attention. KONG worked on consumable options to bring awareness to consumers that the KONG can be stuffed. The first consumable launched was Stuff'N Paste which later was renamed Easy Treat, and is still the best-selling consumable KONG has to date. This had proved the KONG stuffing emphasis was a very viable solution to focus branding energy on moving forward.
A second new emphasis was expanding the product offerings to include a line created especially for puppies, and eventually senior dogs, which created the need for additional rubber strengths besides the Classic and the Extreme. This emphasis expanded the product offerings to include the Puppy KONG and Senior KONG. The KONG rubber line now consisted of four rubber types. KONG Classic, KONG Extreme, KONG Puppy and KONG Senior. Each rubber type comes in sizes ranging from XS to XXL depending on the type of rubber.
As the brand grew around the classic shape and the concept of stuffing, KONG realized there was opportunity to expand the brand into new product areas because dogs need a variety of ways to play. KONG took each new product into consideration with a goal to find the highest quality toys, not just another toy. If an opportunity for a new toy or category arose, it was vetted out to determine if it met the quality standards for safety and playability long term.
Global growth continued in 2004 and there was an opportunity to expand sales and operations functions for Europe into the UK. In 2009 a similar opportunity for global growth presented itself, and KONG began operations in Australia. From both these locations, KONG has been able to reach further, strengthen the consistency of the KONG brand, and grow its partnerships with retailers.
Read Less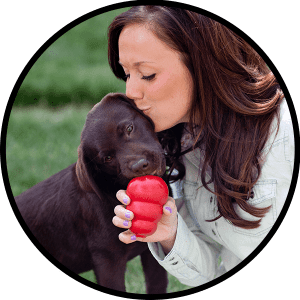 The 2010s
KONG continues to make the most of every opportunity with the ability to adapt to markets around the world. This expansion moved to China in 2015 and in 2017 KONG took over the direct partner relationships in Japan.
KONG is now sold in over 80 countries, and continues its expansive growth, seeking the opportunity for worldwide safety and consistency. Culture, country and laws are always in mind, while the KONG brand remains the same around the world.
Read More
KONG is a leader around the world in the pet specialty industry and its humble beginnings remain the foundation and cornerstone of decision making for KONG today. Fulfilling a dogs need to play with safe, everlasting fun and durability while giving pet parents a way to connect with their dogs. As KONG sells more dog toys, it is our goal to help more people around the world. With each dog toy we sell, we hope to inspire others.
Dogs around the world love KONG. The way it bounces keeps them engaged and ready to play. It has a soft mouth feel for a satisfying chew and, of course, it's super durable. Owners love KONG too; they can stuff it, throw it, and make it part of their daily routine. After all… Dogs Need to Play.
Read Less
KONG Alumni
Pets of KONG who have Crossed
the Rainbow Bridge