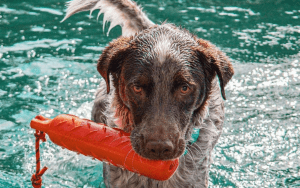 Summer Essentials
KONG essentials to keep your pet active all summer long!
Summer is finally here! Just like humans, pets also need fun summer accessories to help make the most out of the long summer days. Here are some of our favorite grab-and-go items to keep your pet busy this summer.
The true Classic we all know and love. It can be tossed around, stuffed with food, frozen, or simply chewed! Great for long car rides, hanging at the beach, or summer hikes. Add to the fun by stuffing and freezing a couple beforehand for a mentally stimulating treat. For stuffing inspiration, check out our KONG recipes here.
KONG's new Easy Treat To-Go makes it easy and convenient to pack a quick snack for your pup. Sized in individually portioned 1/2-oz pouches, these handy, tasty treats are designed to use as a convenient solution when you're on-the-go. Use as an added bonus treat to top off a stuffed KONG Classic toy to provide a mentally stimulating challenge. With no refrigeration required, you can keep a few in the car, backpack or any other on-the go place for any immediate need.
The Wet Wubba is covered with easy-to-see neoprene (wetsuit fabric). This high-floating toy is awesome for water and playing on the beach. The Wet Wubba is fast to dry when playtime is over and can be used as a tug and toss toy anytime.
This isn't your typical game of Frisbee! The KONG Flyer is made of our Classic KONG rubber, which allows for a forgiving catch and a dynamic rebound. Made to play in any weather, the Flyer is a must-have for any summer adventure.
Everyone knows summer is the perfect season for games of fetch and the KONG SqueakAir ball is the best of both worlds: a bouncy tennis ball and a squeaking toy! Get ready to fetch and retrieve for hours with this squeaking favorite.
Stay cool and have a blast this summer with your pet!