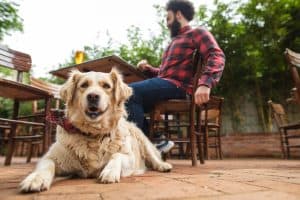 Social Etiquette Series: Brewery Etiquette for Dogs and Their Parents
It seems like dogs are with their humans everywhere you go these days (yay!). You might be curious about taking your dog with you on your next trip to the brewery, but unsure if it's right for your dog, or what the best etiquette is for dogs in this setting. We know you want to be a responsible pet parent, so we have put together a list of 6 questions to consider and tools for taking your best friend out to your favorite social spot this warm weather season!
1. What is my dog's reaction to other dogs?
If you have taken your dog to a dog park or on a busy sidewalk, you may have noticed how they react to other dogs in close proximity. If your dog gets along well with others and passes them with ease, they are ready to hit the breweries! If your dog lunges, growls, or barks in a protective or warning manner, you might reconsider taking your dog to a busy patio. These reactions mean your dog is uncomfortable, anxious, and feels defensive. Working with a trainer will help you determine if your dog can overcome these reactions. In the meantime, instead of taking your dog with you, bring them a treat when you return home and do something they enjoy. Feel good knowing that you are so in tune with your dog that you know what is best for them and are putting their needs first! Watch this short KONG Classroom video about dogs' body language and what they are trying to tell you.
2. Does my dog get nervous around other people?
Like the first question, if your dog tends to react to most humans by lunging, growling, hiding, or barking defensively, take this as a sign that they are not comfortable in spaces with multiple humans. Your best option might just be to leave your fur-bestie at home.
3. Will there be food there?
Being aware of your dog's reaction when food is present is a gift that can give you insight into whether or not they will do well at a brewery this season. If your dog guards their food or attempts to steal food, this could cause issues around other dogs. It's best practice to 'know before you go'—check to see if there will be a food truck, dog treats, or other sources of food at the event.
4. Should I let my dog greet other dogs?
If your dog is curious and social, they might be inclined to greet dogs in passing and at other tables. If you are sitting within leash distance of another doggo, strike up a friendly conversation with their parent as you sit down to find out what their dog's temperament is with sniffing, playing, and food, and if it's okay to allow your dog's leash some slack to visit and play. If their dog has a different set of boundaries, you can try moving your dog to the other side of the table. Always keep an eye on your dog and reign them in if they get too far into others' space.
5. What tools should I bring with me?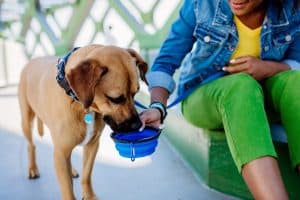 If you've cleared the first few questions and you know your dog is okay around other dogs, people, and food, you are ready to head to a brewery patio near you! But wait… we have some recommendations for what to bring with you.
Travel bowl- Always assume there won't be a water bowl available. Bring your own to avoid your dog becoming dehydrated.
Leash, collar, harness- Whatever you usually use to keep your dog close and safe, make sure that's what they are wearing on your brewery date.

If you usually use a long leash, remember that other dogs may react differently to dogs in the vicinity. Keep the leash shorter until you know the space you're sitting in and how the surrounding dogs get along with others.
If you're standing, it's best to keep your dog on a shorter leash—anywhere from 2-4' is a good length depending on the crowd.
Safety tip: Do not use a retractable leash in social settings. These leashes can easily trip other people or dogs, and if dogs' leashes become tangled, it could cause a scuffle. These leashes are best used in open spaces with few other dogs or humans around.

Poop bags- 'It' can happen Don't forget to pack 'em 💩
Frozen KONG- If you are headed to a space you know won't be overcrowded and you will be sitting for a while, take a frozen KONG Classic (try this Pineapple Paradise recipe!) to keep your dog entertained while you enjoy a pint and chat with friends. A frozen KONG will help keep your dog cool while mentally stimulating them!
6. Should I bring treats?
If you anticipate being in a tightly crowded environment or an event with a lot of dogs, it is best to play it safe and leave the treats at home. You might be able to control your dog, but other dogs might have food aggression that their parents may not be aware of. Instead, you can take a comfort toy like the Wild Knots Bear if your dog prefers to carry something in their mouth.
Where to start?
Start small with these simple tips.
Find a local brewery patio with space between each table so your dog has room to lie down and feel comfortable. Go at a time when there will be fewer people and dogs to test the waters. If your local brewery is constantly busy, try a coffee shop patio or even walking around your local hardware store.
Bring a frozen KONG, their favorite snuggle toy, or chew toy.
Take note of how your dog behaves around people and other dogs. Notice anything that makes them uncomfortable or reactive, as well as things that make them happy and comfortable.
Find out where your dog's time & space threshold is for places outside of the home and look for these body language signs each time you go out together.
Repeat this exercise in different locations to see how your dog does.
Make the outing a rewarding experience for your dog with lots of praise, treats, and relaxed energy. Treats can be served post-patio if there are a lot of other dogs around.
Recommended Tools for Breweries:
For sitting spaces & uncrowded areas: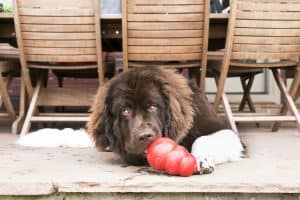 KONG Classic, Goodie Ribbon, Goodie Bone, Stuff-A-Ball– These rubber KONG toys can all be stuffed and frozen to keep your dog busy and cool. Check out KONG stuffing recipes here.
For moderately crowded sitting spaces:
Chewstix Ultra Stick– This is another great tool for chewing and keeping dogs busy with zero mess.
For crowded spaces or standing only:
Wild Knots Bear– This is a great plush toy for dogs who prefer to carry things and snuggle.
Does your dog have a favorite KONG toy for relaxing at the brewery or on a patio? Let us know by tagging @KONGCompany in your photos on Instagram and using the hashtag #KONGdog!