Pet Dental Health
Just like humans, pets need dental care – and yes, we are talking about cats, too!
Healthy gums and teeth can make a pet's life much more enjoyable and can even extend their lifespan. 80% of dogs and 70% of cats have some sort of periodontal disease. If caught early enough, this can be reversed. The five signs of periodontal disease are:
Stinky breath
Red, swollen gums
Excessive drooling
Weight loss
Loose teeth
Yearly cleanings at the veterinarian are important and highly recommended. During your visit, your vet can tell you if your pet has periodontal disease and can recommend treatments. To make these cleanings easier on your pet and reduce the risk of dental disease, it is important to implement at-home dental care between appointments. No matter their age, you can begin caring for your pet's teeth at any time.
Ways to Care for Your Pets' Dental Health at Home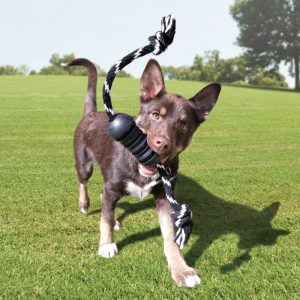 1. KONG Chew Toys. For easy dental health care, plus a dose of mental enrichment, we recommend KONG dental chew toys. These toys are designed to provide manual friction and scrubbing to remove plaque from your dog's teeth and massage and stimulate their gums. KONG has a full range of dental health toys to choose from for your dog's particular needs:
2. Brush your pet's teeth. Okay, we know this can be difficult, especially if you have an adult pet who isn't used to you sticking your fingers in their mouth. Here is a 7-Day slow introduction to brushing your pet's teeth from Texas A&M University Veterinary Medical Teaching Hospital. They recommend using a finger brush along with enzymatic dog & cat toothpaste. Enzymes are natural and help to remove plaque and neutralize bad breath by fighting bacteria. Tooth wipes can be an easy addition to brushing.
3. Water additive. Simply add the recommended amount to your pet's water bowl. When they drink, the water splashes around their mouth, causing the enzyme to work its magic! Look for brushless water additives that use an enzymatic formula to break up plaque and kill bacteria. Formulas that do not contain chlorhexidine, xylitol or alcohol are the safest options. Great for dogs with painful gums or missing teeth.
4. Treats & Foods with Dental Support. Some dog treats are made with ingredients that manually 'brush' the teeth as the dog gums and chews the treat. Prepared raw bones from trusted raw brands (never cooked bones) offer natural dental health for dogs and also available for both dogs and cats are crunchy treats and kibble, which have a special coating formulated to clean your pet's teeth. This option is good for dogs and cats who cannot chew on bones or chew toys.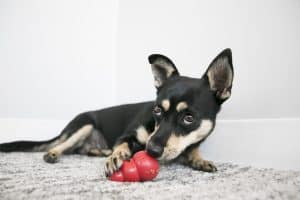 5. Strengthen from the Inside-Out. Pet foods that are low in carbs mean less sugar for your pet's teeth. Feeding a well-balanced diet consisting of species-appropriate ingredients like meats, fish, and eggs, along with other low-carb ingredients can help balance your pet's overall and oral microbiomes. Specific probiotic supplements found in this study have been shown to improve oral health and prevent growth of infectious bacterial species when given by mouth.
For the best chance at preventing disease, we recommend finding two forms of dental health upkeep, one manual and one in the form of enzymes or probiotics, to use between your pet's annual veterinary teeth cleaning visits. We also recommend rotating between dental chew toys to keep things interesting for your dog and to provide a variety of mechanical cleaning actions. Boost the variety even more by treating your dog to different KONG stuffing recipes featuring low-sugar ingredients like chicken, beef, yogurt, pumpkin puree, and more!
Suggested Video: Watch this video from KONG Ambassador, Sarah Zimmer, for more information about Dental Best Practices.