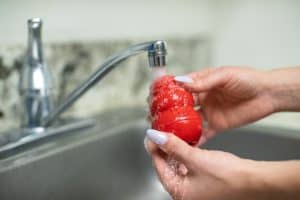 How to Clean a KONG
A quick guide into cleaning your KONG.
Even the most talented dogs may leave a bit of food at the bottom of their KONG. Don't worry, cleaning the toys is easy:
Rinse with warm water and dish soap
If stubborn treats, like dried peanut butter, don't rinse out, try soaking the KONG in warm water and dish soap to loosen the leftovers.
Use a bottle brush or old tooth brush to scrub the inside of KONG.
Be sure to rinse thoroughly.
All KONG Rubber toys are top-rack dishwasher safe. Make sure to skip the drying cycle as excess heat can damage the toy.
Pro Tip: A chopstick can also be a handy tool for poking out any treats that are stuck in KONG's opening.
It's a good idea to keep a few extra stuffed KONGs in the freezer so you always have one on hand even if the dishwasher is running.