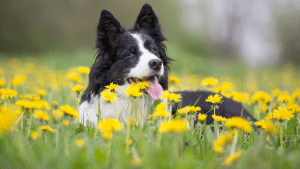 Get Your Pet in Shape for Spring
How to put a spring back in your pet's step for the warmer seasons.
Spring is on its way, and you may have noticed new, green grass pushing its way through the dirt on your daily walks with your pet already. If your walks have been shortened or non-existent in the blustering snow days of winter, it's probably time to get moving and prepare for all the adventure that awaits you!
Follow these guidelines to help your pet engage in play, whether at the vet's office, eating, or outdoors this spring.
1. Visit your vet.
It's been a long winter and if your dog or cat hasn't been to the vet lately, it's time to schedule an appointment for a complete physical. This is an especially good idea if you have a pet who is getting a little older. Your vet will examine your pet to see if they are overweight or have a medical condition that would change the way you exercise, and a course of treatment to get healthy again.
Make your vet visit a little easier with KONG Licks! This flat, silicon pad has ridges that hold peanut butter or wet food easily. With suction cups on the back, you can stick this pad to any smooth, flat surface, like the vet's table. During the visit, your pet can enjoy a tasty treat, making it fast & easy for the veterinarian and technicians to do their job. Before you know it, the visit will be over and your pet will get a gold star for being a good boy or girl.
2. Medications & supplements.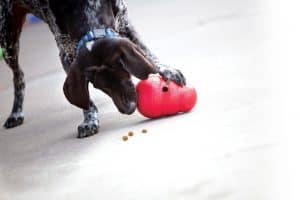 While you are at the vet's office is a great time to ask them about your dog or cat's food, medications, and if it's a good idea to add any supplements. Additional supplements might not be needed, but if your pet is aging or in deficit, your veterinarian might suggest adding one to the daily feeding routine.
There are lots of different types of pill-holding treats out there, and you can even make them yourself. This is an easy and quick recipe to make your own pill-disguising treats. Get excited about giving your dog the treat and let them hear the excitement in your voice. If your dog doesn't trust your treat hand, it might be time to call in the KONG Wobbler. Place your dog's regular meal in the Wobbler along with the pill treat. Make sure the treat is a little smaller than the hole of the Wobbler so it comes out easily. The Wobbler's weighted bottom allows it to wobble and dispense food and treats as your dog bats it with their paw or nudges it with their nose. Turning pill time into play time becomes a reward for you and your pet!
3. Indoor cats and their calories.
Indoor cats can easily become overweight for many reasons. If your cat's weight gain isn't from a serious medical condition, it could be time for more play! It's easy to overlook play as a form of exercise with your cat, especially since many of them spend the nicer seasons indoors.
However, Cats Love to Play! Cats play in the wild by stalking, chasing, and pouncing on their prey. Recreate their history of being a hunting prowess by giving them a KONG Teaser. With several options available, your cat will love chasing the feathers, ribbons, and furry creatures at the end of their Teaser. To give your cat an option for when you aren't home, check out the KONG Connects Dangler for an inside door handle, and the KONG Teaser Purrsuit Butterfly, which suctions to the inside of your home's window, giving them a view of the great outdoors while they play.
4. Dogs Need To Play.
It might be overwhelming to know where to begin with your dog. If you aren't a runner, it might be daunting to imagine how to get in enough exercise and mental stimulation to get your dog in shape and slow down their eating habits. To start it helps to determine the type of toys your dog enjoys, then incorporate them into your playtime.
For active play, you yourself don't need to run! Tugging and fetching are two excellent examples of physically active play which will engage your dog's muscles and increase its heart rate.
Tugging games are interactions between your dog and you or another dog. This style of play engages your dog's full body, and creates healthy competition by tugging & pulling with toys like these:
Chasing and fetching toys will increase your dog's heart rate and burn their energy by running and retrieving the toy, and often works well for dogs who enjoy positive feedback. Try these toys for a game of fetch:

Fetch isn't just for dry land! Try the KONG Aqua for water retrieval fun.
Active play isn't the only type of play your dog needs this spring. While it is great for burning calories and fat, disease prevention, and for bonding with your dog, mental stimulation is just as important. Balance out your active play outside with mental enrichment inside. These toys are also great for rainy days this spring:
Puzzle Toys & Feeders are mentally stimulating, rewarding, and great solutions for slowing down food intake and dieting. On rainy and muddy days when you can't get outside, make sure to engage your dog indoors with one of these puzzle feeders:
Chew toys- Dogs who need calming time and mental stimulation, or enjoy chewing things they shouldn't, need chew toys. Chew toys activate a primal sense of chewing, which relieves stress, fights boredom, and helps to keep teeth clean. Chew toys can be used indoors or outside somewhere your dog feels safe- in your yard or on your patio.
Here's to bonding with your pet this spring! We would love to see your pet's play style, so make sure to tag us @kongcompany on Instagram and use the hashtags #kongdog or #kongcat. We can't wait to see what adventures unfold this spring!