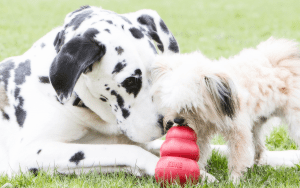 Beyond Peanut Butter: What to stuff in a KONG
KONG can be stuffed with a wide variety of things!
KONGs and Peanut Butter are an iconic duo and a go-to for most dog owners. It's an easy and delicious pair that keeps dogs occupied and satisfied. But what else can you stuff in a KONG?
Anything that is safe for a dog to eat you can stuff into a KONG. This means that there are infinite combinations of tasty treats you can create for your dog to help maximize their KONG time.
KONG satisfies dogs' natural chewing and foraging instincts, delighting dogs with long-lasting mental and physical stimulation. Having a variety of KONG stuffing recipes in your repertoire keeps things fresh. After all, your dog probably has the same meal for breakfast and dinner. In fact, feeding meals via KONG is a terrific way to slow down eating for safety and weight management. Treating your pup to different flavors, however, provides delicious variety and helps keep them interested in playing with their toy, which provides healthy mental and physical stimulation.
Since every dog has different favorite foods, the most delicious KONG for one dog may not get more than a sniff from another. You probably already know which foods your dog loves best, their "high value" treat rewards. If not, it's fun to conduct your own taste tests. Offer your pup different morsels, side by side, to see which one he or she gobbles first.
Don't know where to start? Anything that's safe for a dog to eat can be stuffed into a KONG.
Check with your vet about the best foods and quantities for your individual dog.
Stuffing strategy
In addition to what you put in the toy, how you stuff a KONG is important. For dogs who are new to KONG, begin by filling the toy with a few kibbles and small pieces of their high value foods that they can extract easily so your pup gets the hang of it. Trying to get food out of a tightly-packed KONG can be frustrating for a rookie, so be sure to start with loosely packed treats for an easy reward. Here's a guide that illustrates how loosely, then how snugly, you should stuff based on your dog's level of experience to make sure they have the most fun.
Remember to seal the KONG's opening with an especially tasty treat, like peanut butter or KONG Easy Treat, to tempt your dog into action. The seal also keeps the other treats inside the KONG until your dog works them out.
More Advanced Stuff
Once your pup passes KONG 101 and understands how fun it is to get the goodies out of the toy, you can graduate to more challenging stuffing by mixing wet and dry foods together. You can stir all the ingredients together into a bowl and fill the KONG. Or, you can layer the stuffing to create a puppy parfait. As your dog works through the layers, they're rewarded with a different treat. You can think of the layers like courses in a canine four-star feast.
The most important thing is to stuff the KONG with foods your dog loves. For a greater, longer-lasting challenge, freeze stuffed KONGs for a few hours. Or, create frozen stuffing nuggets in ice cube trays to slide into the KONG, like we do here for Baker's favorite, Cube Chillers:
· 12 small KONG Snacks
· 1 sliced banana
· 1/2 cup blueberries
· 1 cup water
· KONG Classic
TIP: Don't forget to include the calories you stuff in your dog's KONG while calculating their daily total. For example, if your dog enjoys a rich KONG in the afternoon, adjust their dinner accordingly.
TIP: If you use peanut butter, be sure to check the label. Some brands use xylitol as a sweetener—and it's toxic to dogs. Other foods, like some brands of yogurt, may also contain the ingredient.
TIP: Celebrate the season with stuffing! Use holiday meals and seasonal favorites to inspire your KONG stuffing recipes. For inspiration, check out Thanksgiving Feast, Earth Day, and Summer Picnic.