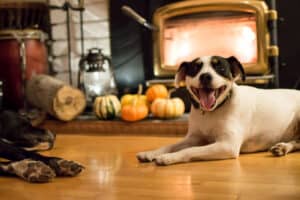 A Happier, Safer Home for the Holidays
Give your dog their own meal, not some of yours!
While holiday celebrations may be scaled down this year, chances are you will still be planning to gather for special meals with close loved ones—including furry family members. Here are some tips to ensure that everyone at the table—or under the table—safely enjoys their time together.
Prevent begging at the table
Think about how the mouthwatering smells of roasting turkey and baking pie can draw you straight to the kitchen. Then, imagine your nose was 10,000 to 100,000 times stronger—like a dog's. The temptation to beg in the kitchen or at the table during the holidays can be especially strong when special foods are being cooked and a dog's favorite people are gathered together to eat them. Help prevent begging with a bit of preparation—and a KONG.
KONG has been helping dogs better enjoy the holidays—and the rest of the year—for over four decades. Stuffing a KONG with a dog's favorite treats creates a food puzzle that provides mental and physical stimulation that can help dogs work off excess energy. KONG Classic rewards dogs not only with tasty nibbles but also by satisfying their natural chewing and foraging instincts.
Favorite holiday flavors for everyone
Giving your dog a frozen, stuffed KONG before you sit down for a holiday meal—or as you're preparing one, lets them celebrate the season safely. There are a million delicious ingredients to use to stuff a KONG, including holiday stuffing favorites that let clients share holiday flavors—and leftovers—with their furry family members.
Thanksgiving Feast
1 cup shredded turkey
1/2 cup canned pumpkin
1/4 cup dried cranberries
1 tablespoon KONG Peanut Butter Spread
Mix the first three ingredients together in a bowl. Split mixture between several KONGs. Seal openings with KONG Peanut Butter Spread. Freeze.
While there are plenty of holiday foods that can be safely stuffed in a KONG, other seasonal favorites can be tempting but toxic to dogs.
Foods that are safe treats:
Lean white meat turkey with no skin
Fresh pumpkin
Fresh green beans
Fresh carrots
Foods to Avoid:
Chocolate
turkey bones
onions
eggnog (and any alcohol)
nutmeg and raisin-stuffed fruit cake
Remember to keep these foods far away from curious snouts and to tell guests not to share their food with dogs. Make sure children, especially, understand how important this is. You could instead invite visiting children to make a big deal about presenting a special stuffed KONG to the dog instead, making this a fun—and safe—holiday tradition.