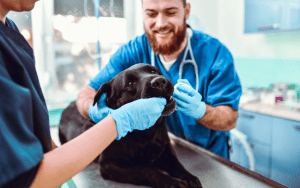 5 Signs of Dental Disease in Dogs (and Fun Ways to Fight It)
Know the signs ahead of time, and see what you can do!
While your dog (usually) can't tell you about a toothache in words, their behavior can raise a red flag if you know what to look for. Why should you be concerned? Because good dental care can extend a dog's life.
Eighty-percent of dogs have some form of periodontal disease by age three. And, as in humans, gum disease doesn't only threaten the mouth—it can lead to kidney and liver damage and heart disease. Periodontal disease is the most common clinical issue found in dogs. The good news? It's completely preventable.
Check your dog for these common symptoms of gum disease. Then, learn how to help make preventing it fun during February, National Pet Dental Health Month, and during the rest of the year.
Signs of dental disease:
1. Stinky breath
2. Red, swollen gums
3. Excessive drooling
4. Weight loss
5. Loose teeth
Your dog should have regular oral health exams with a veterinarian as part of his or her general care. The American Veterinary Medical Association (AVMA) recommends daily brushing and chew toys to help support dental health. Watch this AVMA video (featuring, in the second half, Stuff-A-Ball) to learn how to introduce your dog to tooth brushing and how chew toys help promote dental health.
Make dental care fun
KONG makes dental health fun with a variety of toys designed specifically to help clean teeth and gums. The irresistibly chewy rubber keeps dogs chewing while the shapes are designed to work with the mechanics of dogs' jaws to help remove buildup on teeth and massage gums.
KONG Dental Bone and Stick are made from durable, natural KONG Classic Rubber that encourages healthy chewing. These toys feature Denta-Ridges, thin protruding rubber rims that massage gums and help remove buildup on teeth as dogs chew them. Fill the grooves between the Denta-Ridges—and the hollow interior of the toy—with your dog's favorite flavor of KONG Stuff'n paste, KONG Easy Treat or KONG Snacks to encourage chewing and keep them playing longer.
KONG Dental with Rope gives dogs a brushing-flossing combo while they play. The all-natural rope helps clean and polish teeth with light abrasion that removes soft surface tartar, even between teeth.
KONG Jump'n Jack and KONG Stuff-A-Ball deliver dental care with dynamic action. Made to bounce, chase and chew, these toys combine fetching fun with oral care. They both have hollow cores made for treats to keep dogs interested for extended bouts of healthy romping—and tooth care.
The flexible, durable material featured in KONG Squeezz Dental Ball, Bone and Stick toys invites a deeper chewing experience for even more extensive teeth cleaning and gum massage. Stuff the grooves with treats or paste (or both!) to encourage chewing.
Rotate a variety of different KONG dental toys to keep things interesting for your pup and help maintain critical oral health. Boost the variety even more by treating your dog to different KONG stuffing recipes featuring his or her favorite flavors.
Check here for stuffing tips and on KONG's website for a tempting ton of recipes.