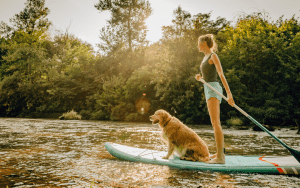 The Benefits of Stand-Up Paddle Boarding with Your Dog
A way to workout with your pup!
We all know that Dogs Need to Play! There are some awesome KONG toys that are meant for water fun like the Training Dummy or the KONG Aqua, but we thought it would be fun to kick it up a notch! Maria Christina Schultz, an expert on stand-up paddleboarding (SUP) with her dogs, has a great guide on how to get started! You can check out more on her website here. You can always bring your favorite KONG water toys with you to tire out your four-legged companion before heading out on your SUP journey!
Why SUP with your Pup?
Dogs love stand-up paddle boarding (SUP) for the same reasons people do! The peacefulness, accessibility, and a new point of view. For dogs, SUP boards are much easier than kayaks and canoes to get in and out of. They are less restricted on a SUP board and have more freedom to move around. The biggest attraction of all is how easy the sport is to learn. With a little bit of practice, a simple training program, and a stable board, most human-dog duos can learn quickly and be out on the water in just a few weeks. Not to mention this activity is perfect for social distancing this summer.
For humans, SUP offers a total body workout that can either be ultra rigorous, or fun and low-key. Believe it or not, your dog also gets a good workout on a SUP board. Standing on the board, dogs use their core and leg muscles just like us. Swimming is also a wonderful exercise for both pups and people. On a hot day, why not pull over and go for a swim? For older dogs or dogs with joint pain, swimming is the best way to keep muscles active and healthy. Lastly, my favorite benefit of SUP is the bond it creates. My dog, Riley, and I learned to balance as a team and anticipate each other's movements. Riley needed to trust that I wasn't going to put him in harms way, and I needed to trust him not to jump off. This created a lot of trust between us, and it cemented our relationship.
Learning a new skill that requires balance is not only a good physical benefit, but a great mental benefit as well. When you're out on the water you have to focus. First, you're balancing and paddling – something that forces one to be "in the moment." Second, you'll need to be paying closer attention to your dog. Your dog will of course love that too. You'll have to anticipate any movement your dog may make and adjust your stance accordingly. Then you have the water. Water has a renewing spiritual benefit all its own. The tranquility will surely help some of that daily stress float away. For most dogs, they just want to be with us. Being on a board with just your dog and no other distractions simplifies life; your dog will thank you!
It's always fun to have an extra set of eyes onboard. A lot of times I'll look down at my dogs to see something has caught their attention. If I follow their gaze, I'll spot a bird, turtle, or fish.
SUP is one of the few sports I have participated in with my dogs where we both get to enjoy the same experience at the same time. SUP is unique because we both get to feel the wind in our faces, the sound of the water, and the glide of the board over the water.
How to Start Paddle Boarding with your Dog
Not sure where to start when it comes to paddle boarding with your dog? Here are a few tips:
1. Take a basic paddleboard class before you bring your dog.
Before attempting to learn a new sport with your dog, make sure you are confident before bringing along your dog. Find an ACA certified paddle board instructor and master some basic paddling skills first!
2. Buy a board that works for you and your dog.
Boards are not one size fits all – you need to buy the board that works specifically for you, your dog, and your goals. For example, inflatable boards are highly durable and have a rubber surface good for footing. Hard boards, however, are more efficient, gliding more easily through the water.
3. Practice on land and in your home before hitting the water.
Make sure your dog understands that the board is a place to sit and stay, not a place to romp around on. The more time you spend training this association the smoother your outings will be.
4. Make sure you and your dog always wear life jackets while on the water.
This isn't just a safety tip – Coast Guard law requires you to wear a personal flotation device (PFD) while on the water outside of a swim or bathing zone. It's also a necessary feature to protect your dog while in the water. Dogs don't come with handles and you'll need one to pull your dog onto the board when he falls off!
5. Always go at the dog's pace – in training and on paddles.
It's all about the dogs – and that means learning and traveling at their pace. Some dogs learn new skills quickly and others need more time. If your dog is nervous and starts showing signs of stress, end your paddle, and plan for a shorter ride the next time.
Looking for even more tips and training help? Check out the book How to SUP With Your PUP for everything you need to know about paddle boarding with dogs and you can also follow @sup_with_pup on Instagram for even more fun content!