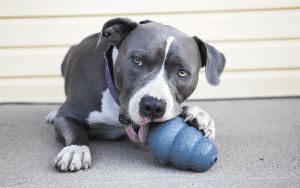 X2: For the Exceptional Chewer
See if the KONG X2 is right for your dog!
Do you have a dog that seems to be the heaviest of chewers? No toy to them is indestructible? Do all their toys need to be fluff-free? Some dogs may even be labeled as "toy-destroyers"! Well if that sounds like your furry friend, you'll need a different set of toys in your toybox than the average dog.
KONG Rubber Strengths
KONGs come in different colors which correspond to different strengths of rubber. These rubber strengths correspond to your dog's chewing style. Once you figure out which category your dog's chewing style falls under, your toy selection should correspond! For teething chewers, who are often puppies, a Puppy KONG would be the best fit. Aging chewers also require softer rubber, like our Senior KONG formula. Most adult dogs are average chewers and a KONG Classic can satisfy their chewing needs. If your dog is a more aggressive chewer, you might have a power chewer. Most power chewers needs are satisfied with the more durable tougher, less malleable KONG Extreme. Then where does the X2 come in? Well if your dog goes beyond the power chewer label, you might just have an exceptional chewer.
Exceptional Chewing
Although rare, we do get comments from time to time saying a dog was able to tear through an Extreme KONG. These dogs have truly reached exceptional chewer status. These gnaw-ers need more rubber, they need more of a challenge and they need more chewing stimulation. The KONG X2 has more rubber than ever before, while keeping the same KONG shape dogs have loved for decades. This toy is not for your average dog; this is specially designed for the heaviest of chewers. Although not yet sold in stores, we are testing our theory that the KONG X2 will meet the needs of exceptional chewers who need toys that are built to last.
Here's What People Have to Say…
Don't just take our word for it, listen to our first X2 testers' thoughts on this new KONG!
"We love the X2! First, the rubber being thicker makes the hollow portion smaller, which means treats are harder to get out. It was no easy feat for Cora to chew and loosen everything up, so instead of taking her 10-20 minutes to devour a frozen KONG, it takes about 45 minutes for her to completely empty this one. Second, she has not managed to leave teeth marks yet, which just shows how strong this is!"
– Cailet H.
Dog chewing on a KONG toy
"This is the best toy we've ever found for Ace, who lives to chew. It lasts much longer than his other toys which typically have a 10-minute survival rate and this still hasn't been destroyed yet after a few weeks. He's a KONG boy for life!"
– Danielle N.
"Thank you for the new KONG X2! My mega chewer Maggie loves it — and hasn't even put a ding in it after half an hour of play. This is a new record."
– Karen K.
"Maple, my sweet rescued power chewer, LOVES her KONG X2. She says thank you for her new favorite toy!"
– Audrey H.