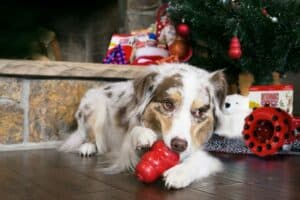 Pet Parents Guide to the Holidays
How to get your pets set up for the holiday!
The holiday season has snuck up again! Between family, friends, food, and travel the time from Thanksgiving to New Years' can be incredibly stress-inducing not only for you but especially for your pet. Whether you are staying home and hosting guests, traveling across the country or going to your neighbor's house – the holiday craze can cause even the happiest of pets to feel overwhelmed.
For some people, this is the first time that they are leaving their pet alone for an extended period of time or the first time that they are traveling together further than your local dog park. Holiday parties might even be the site for your pet's first social gathering involving other dogs and tons of tasty smells and distractions. Have no fear! Here are some tried and true ways that KONG can help save you and your best friend from a holiday of headaches.
Travel Tips
Treats: Packing treats might seem like a no-brainer but treats are vehicles for positive reinforcement which helps to reward your pup for good behavior and provides comfort during hectic holiday traveling. Check out brands that have easy-to-carry re-sealable or single-use bags perfect for busy pet parents on the go. For a quick snack to stuff, your dog's KONG try Easy Treat To Go available in Liver and Puppy flavor.
Water: Long car rides, airport lines, and plane rides can tire and dehydrate your pet quick, be sure to pack water and a pop-up bowl for easy water replenishments and breaks to ensure your pet's safety and happiness.
Accidents: Accidents happen, even the best-trained dogs can get anxious and have bathroom emergencies in the most inconvenient locations. Be sure to pack bags and wipes in the event of a road trip accident or airport security line leak. For even easier travel grab a KONG Handipod for quick bag and sanitizing or flashlight technology all in one!
Setting Up for Success
The first time you go away without your pet can be nerve-wracking for all parties involved. Life happens, and there are going to be times when you will have to leave your best friend for a more than a few hours so it is best to prepare yourself and your pet this holiday season for that upcoming reality. Some tips for making this process as painless as possible include:
Mitigate Anxiety
Being left alone for more than an hour or so can cause many dogs to become anxious, which in turn can lead to destructive behaviors. Prepare for your office holiday parties, ski days, or cozy dinner gatherings by making sure your dog has something to channel that energy into. Enter, the KONG Classic, your ultimate enrichment tool. Durable, natural KONG rubber toys satisfy your dog's instinctual need to chew and creates an outlet for safe and appropriate chewing behaviors. Stuffed with your best friend's favorite treat, KONG Classic shapes can provide hours of challenging mental stimulation and active play so that chewing your new couch seems unappealing.
If your dog is not a chewer be sure to provide them with their favorite plush toy instead, such as the KONG Cozie Marvin Moose, to keep them comforted. Without a tricky challenge or soft cuddle buddy, many pups find that hours alone are meaningless and stressful, for more on combatting boredom-related issues read more below.
Beat Boredom
When it comes to holiday party boredom, prevention is the key! While you are socializing and indulging in holiday feasts with friends make sure your furry pal has something to keep them occupied. Dogs that do not have an appropriate outlet for chewing and play often revert to destructive behaviors to quell boredom, seek attention and release energy. One way to prepare for your next holiday outing is to set up a treat-dispensing toy to occupy your dog's attention for hours on end while providing healthy active play and food rewards. The Wobbler, Replay, Lock-It, and Gyro are just a few examples of toys in addition to your tried and true KONG Classic that will keep your dog busy and begging for more while you can relax and not worry about your guest's or host's shoes being chewed.
Leave Your Pet with a Trusted Friend or Family Member
Have someone your dog knows and trusts watch them the first time you are away overnight or for a few days. This reduces stress and anxiety for your pet since they are with a human they recognize and trust. This also reduces stress and worrying for you because your precious furry family member is with someone who has some experience with their regular behaviors and routines.
Plan Ahead
If you choose to leave your pet with a sitter or boarding location be sure to do your homework and set a time to meet with the sitter before your trip if possible. If not, be sure to communicate before your scheduled absence to ensure they have all the information and tools necessary to make your pets stay as comfortable and safe as possible.
Stuff and Freeze
Meal prep your pup's KONGs ahead of time with tasty treats and fun favorites, then freeze for later use! For a trickier challenge your KONG expert will love, pack more wet food first then add dry food and top it off with KONG Easy Treat.
Pro Tip: Set up some Wobblers with snacks and small treats to keep your dog preoccupied with mentally stimulating, active play all day long.
Below is a recipe featuring a filling festive treat for your pup!
Fido's Farmhouse Feast
Ingredients:
4-5 whole carrots
1 cup pumpkin puree
1/2 cup unsweetened dried cranberries
1 cup apple sauce
1 cup baby spinach
KONG Classic
KONG Easy Treat Peanut Butter
Mix all ingredients together in a bowl. Split mixture between KONGs and freeze.
* This recipe will fill several KONGs depending on the size used.