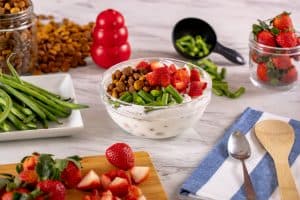 2 Creative Spring KONG Recipes You Can Make at Home!
Mouthwatering recipes for your dog!
What came first, the chicken or the egg?
Spring is in the air, and we can feel it! With the days getting a little longer and the birds out and chirping, it has us feeling all the spring vibes that this season is beginning to offer. It's inspired us to create two spring KONG recipes that you can easily make at home.
KONG Nest Recipe
I came up with this recipe for two reasons:
One: when I think of spring, I think of all the new baby birds in their nests! And two, my dogs go absolutely crazy for quail eggs.
Here's how you can create your very own KONG Nest for your dog.
All you'll need:
Natural Peanut Butter
Kibble or dry treats
Quail Egg
Carrot ribbons (dehydrated or raw, cut very small)
Egg Carton
STEPS:
Place your KONG upside down in an egg carton or mug
Fill the base with kibble and peanut butter mix.
Once 3/4 full, start adding your carrot ribbons to look like a "nest"
Using peanut butter, secure your quail egg on top
Freeze and serve!
Optional: For added "flare", you could always add parsley, chopped basil, or even a few small pieces of broccoli to add a pop of color to your nest.
Spring Chicken KONG Recipe
Okay, I couldn't resist! I really wanted to think of something over the top (and cute) to get your creativity flowing with your KONG toys. With spring in the air and Easter almost here, I thought this little chick would be the perfect way to kick off the spring season.
There are so many possibilities when it comes to KONG treats, and I hope this variation helps broaden your horizons when stuffing your KONGs!
All you'll need:
1 Hard Boiled Egg, shell removed
Carrot (cut in pieces. Ensure to set aside one small triangle for the "beak")
Pure Pumpkin puree
Kibble or dry treats (for eyes)
Plain Yogurt (as "glue")
Piping bag or Ziploc bag with corner snipped off
Small paring knife
Egg carton
Optional:
Cooked Shredded Chicken
Parsley
Steps:
Assemble your KONG by placing upside down in an egg carton or mug. Add pumpkin puree and dry treats or kibble to the first 1/3rd of the KONG.
Using your paring knife, cut your hardboiled egg in half from top to bottom. Set one half aside and chop finely.
Add some chopped egg into the KONG.
Top with pumpkin puree and if using, some chopped chicken.
Now, cut your Halved hardboiled egg in half once more – this time, side to side. Set the bottom half aside.
Using the rounded quarter of your hardboiled egg, secure this on the top of your KONG with pumpkin puree. The rounded half should be facing UP, in order to look like a head, with the flat section being secured to the top of the KONG.
Place in your freezer for 10 minutes to set.
Remove from freezer. Using plain yogurt, secure kibble eyes and a small carrot beak. Note: I had to cut my treats in quarters to get the right sized eyes for my chick.
Using the 1/4 of egg you had set aside, cut two small triangles of egg white to use as "wings".
Use yogurt once again to "glue" the wings to the sides of your chick.
Place in your freezer for 10 minutes to set.
Remove from freezer and using a piping bag, pipe two small chick "feet" down the front of the KONG.
Optional: if using parsley, secure in place with pumpkin puree at the sides of the chick.